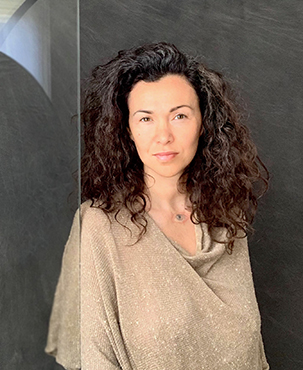 I look at the human microcosm as a macrocosm's paradox, where everything is connected, "All is One".

Growing up in one of the one of the oldest continually inhabited settlements in the world, Matera, led me to investigate Human evolution and his impact on our planet. At the age of 17, I started traveling in India. I changed different cities and countries.

My works dealing with Ecofeminism, Anthropocene, rituals, human behavior, transcending the threshold between life and art. It takes the form of installations, virtual reality, sculptures, videos, paintings, photographs, and interventions in public spaces.

I'm drawn to the suspension and fractals. My "Suspended identities" refers to the "heterotopias" theorized by the philosopher M. Foucault.
Exploring this concept, I pushed myself searching women condemned as witches, segregate in remote African villages. I filmed Buddhist monks in an advanced treatment prison to highlight human rights. I interviewed for almost 12 hours a psychotherapist who became a patient, to name a few examples.

My life and practice are inextricably linked to Nature and his primordial aspect. My holistic view emerges in my last sculptures and watercolors too. I started using food, blood, earth, rust as color, and natural elements. A path throws a voluntary simplicity, also evident in my performances. Like when I was silent for over 336 hours, or when in silence and fast, inside a 120 sq.m black cube, I gave away over five hundred of my personal and valuable belongings.

As an artist, I am the observer that becomes observed in a journey of consciousness where I learn by unlearning.



(b.1973, Matera, Italy) lives and works between London and Lugano.
Awards and accolades, among which: Mostyn Visual Arts Centre / Wales (UK) (2015), special mention / Premio Terna (2010), finalist / Premio Cairo (2001).

Her works have been displayed in different museums and galleries as Mostyn Visual Arts Centre / Wales- UK (2015), Buchmann galerie/Lugano (2014) Tibetan Pavilion, parallel event at the 55° Venice Biennale / Venice (2013). MAMM - Multimedia Art Museum / Moscow (2012), Museo Macro Testaccio / Rome (2012), Permanente Museum / Milan (2012) International photo Festival, Musei Civici /Reggio Emilia (2012), Palazzo Collicola / Spoleto (2011), Palazzo Bagatti Valsecchi / Milan (2010), Stelline foundation (2005)/ Milan, Italian Cultural Institute /Berlin (2005).

Her performances animated intewrnational artistic spaces Mama's theatre / New York (2011), Italian Cultural Institute /Los Angeles (2011), Palazzo Reale / Milan (2010).