WeWorld Festival present Ciriaca+Erre Suspended Witches


ciriaca+erre, suspended witches ,2017. extract from the video, 6'6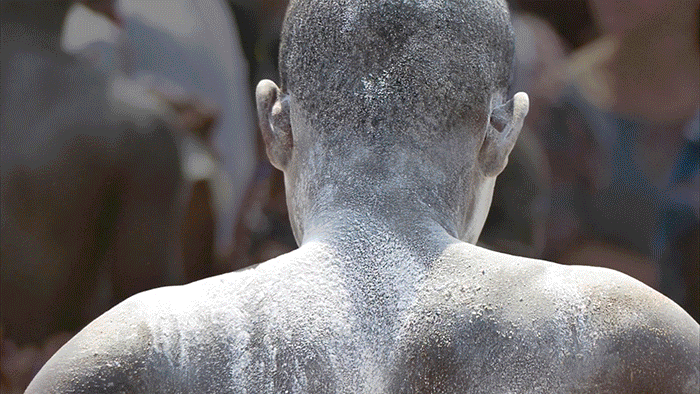 WeWorld Festival. With women. For their rights

CIRIACA

+

ERRE
SUSPENDED WITCHES

World premiere, Saturday 25th November 2017 at 3 pm
Greenhouse, UniCredit Pavilion, Piazza Gae Aulenti, Milan.

Followed by a three-way dialogue: The Body of Art between identity and justice.
With the participation of the artist Ciriaca+Erre, and art critics and curators Ginevra Bria and Francesca Guerisoli.

As part of "International Day for the Elimination of Violence against Women", the WeWorld Festival. With Women. For their rights – organized by Fondazione WeWorld ONLUS - is proud to present the world premiere of Suspended Witches, a video by Ciriaca+Erre.

The Body of Art between identity and justice is the ensuing three-way dialogue. Participants: Ciriaca+Erre, who, for her latest video, went searching for remote West African villages where witches are still segregated; Francesca Guerisoli, art critic and sociologist, also author of the book Ni una Mas. Arte e attivismo contro il femminicidio (No More. Art and activism against femicide); Ginevra Bria, art critic and curator who, with Adelina Von Fustenberg, organized the recent exhibition AFRICA. Raccontare un mondo, at the Contemporary Art Pavilion (Pac) in Milan. The theme of the dialogue is the claim of female identity through different epochs and cultures: from Africa to Latin America to the Western world.

In this world premiere presented at the UniCredit Pavilion in Milan on Saturday 25th November 2017 at 3 pm, Ciriaca+Erre's new video implodes and explodes in a mosaic of images. It is a near anthropological vision that ponders on the evolution and the prevailing human attitudes, and about the rebirth of female identity through a symbolic journey where places, epochs, characters and contrasting events are stratified and interconnected.

The video opens with the words of the native guide who accompanies the artist through these villages: "I have not translated your questions, you cannot understand because you are a white woman. For us they are witches". "He doesn't know, but I was born with the witches' marks". Thus, the video continues with an intimate disclosure by the artist, which underlines the common thread of her work where "all is one, all is connected". The overlapping images are evidence that it is the artist speaking; the marks of the witches are an allusion to the third nipple, as mentioned in Malleus Maleficarum, written in 1487 by two German Dominican monks, and described as "the most dangerous and harmful book in world's literature".

These kaleidoscopic images, simultaneously poetic and disturbing, are the same that Ciriaca+Erre has herself filmed in recent years: from African villages to the purity of nature with real animals and insects mixed with robotic ones, from places and popular religious as consumerist events, to extracts from her own performances, with the addition of historical images relating to witchcraft, the suffragettes, the Amazons, commercial adverts with sexist undertones, female hysteria, lotus feet, corsets, the first vegetarian community, anarchical and utopian, which started in Switzerland on Monte Verità and was headed by the feminist Ida Hofmann and her partner.

Tributes and iconographic citations of some female characters are significant. To name but a few:
The depiction on an amphora of one of the most ancient rapes historically misrepresented as romantic love, that of Achilles and Penthesilea.
The murder of Hypatia, the mathematician, astronomer and philosopher of ancient Greece.
Phillis Wheatley, the first African-American writer to see her work published. Sold into slavery at the age of seven, she had to defend her own literary talent before a tribunal because many, at the time, could not believe that a black woman may have been so intelligent as to write poetry.
Lise Meitner, Austrian physicist, the first to explain nuclear fission, to whom the Nobel Prize was precluded as well as university, which at the time was closed to women.
Margaret Alice Murray, Egyptologist, anthropologist and author of The God of the witches.
Emmeline Pankhurst, pivotal element and figurehead of the suffragette movement.
The engineer, physician and former officer, Mae Jemison, the first African-American woman to travel into space.
The explorer, anthropologist and photographer Alexandra David Neel, the first Westerner to be able to enter Lhasa, Tibet, in 1924 - the city was forbidden to foreigners at the time; an indomitable adventurer, at the age of one hundred she still renewed her passport, only few weeks before her death.

Info:
Suspended Witches, 2017
Video, 6'6"6

Saturday 25th November 2017, at 3 pm
Greenhouse, UniCredit Pavilion,
Piazza Gae Aulenti, Milan.

Free entry – limited number of places available, advance booking only:

click here to book
https://www.weworld.it/WeWorldFestival/

Press office: EosComunica
Via Antonio Canova 6, 20123 Milan.
T 02.87071750, M 392 9958934
www.eoscomunica.it

Biography

Ciriaca+Erre (born in Matera, 1973) lives and works between London and Lugano. Her output ranges from performance to videos, painting, photography, sculpture and installation art. Her investigation, characterized by an anthropological vision, stems from the dichotomic quality of the real and of human nature, also reflected in her pseudonym which merges two identities. Mirroring this split reality, her work is an in-depth analysis of the self, the search for an intimate identity, reaching and expanding its perspective to encompass the social sphere. "I look at the human microcosm as a paradox of the macrocosm where everything is connected, All is One" – declares the artist.
She confronts challenging themes, from female identity to human rights, from the environment to quantum psychology. Her latest works reflect the quest for identity in suspended places - both physical and temporal - approaching the concept of heterotopias theorized by the philosopher Michel Foucault, which the artist defines as "like mirrors that, in their being physical places, engender a feeling of estrangement, a virtual and at the same time a tangible representation of life", like the villages of witches that she herself has filmed in Africa. Her impressions generate visual and emotional bewilderment, creating "a labyrinthine path in which – as the artist states – you need to lose yourself in order to find yourself".

She has been awarded several prizes, including: finalist at Mostyn Visual Arts Centre / Wales – UK (2015), Special Mention at Premio Terna (2010), Finalist at Premio Cairo (2001).
Participated at theTibetan Pavilion, a parallel event at the 55° Venice Biennale / Venice (2013). Exhibited in prestigious museums and galleries: Buchmann galerie / Lugano (2014), Mostyn Visual Arts Centre / Wales – UK (2015), MAMM – Multimedia Art Musuem / Moscow (2012), Museo Macro Testaccio / Rome (2012), Museo della Permanente / Milan (2012), European Festival of Photography / Reggio Emilia (2012), Palazzo Collicola / Spoleto (2011), Palazzo Bagatti Valsecchi / Milan (2010), Fondazione Stelline (2005) / Milan, Italian Institute of Culture / Berlin (2005).
Her performances have animated important artistic sites such as Mama's Theatre / New York (2011), the Italian Institute of Culture / Los Angeles (2011), Palazzo Reale / Milan (2010).





Press