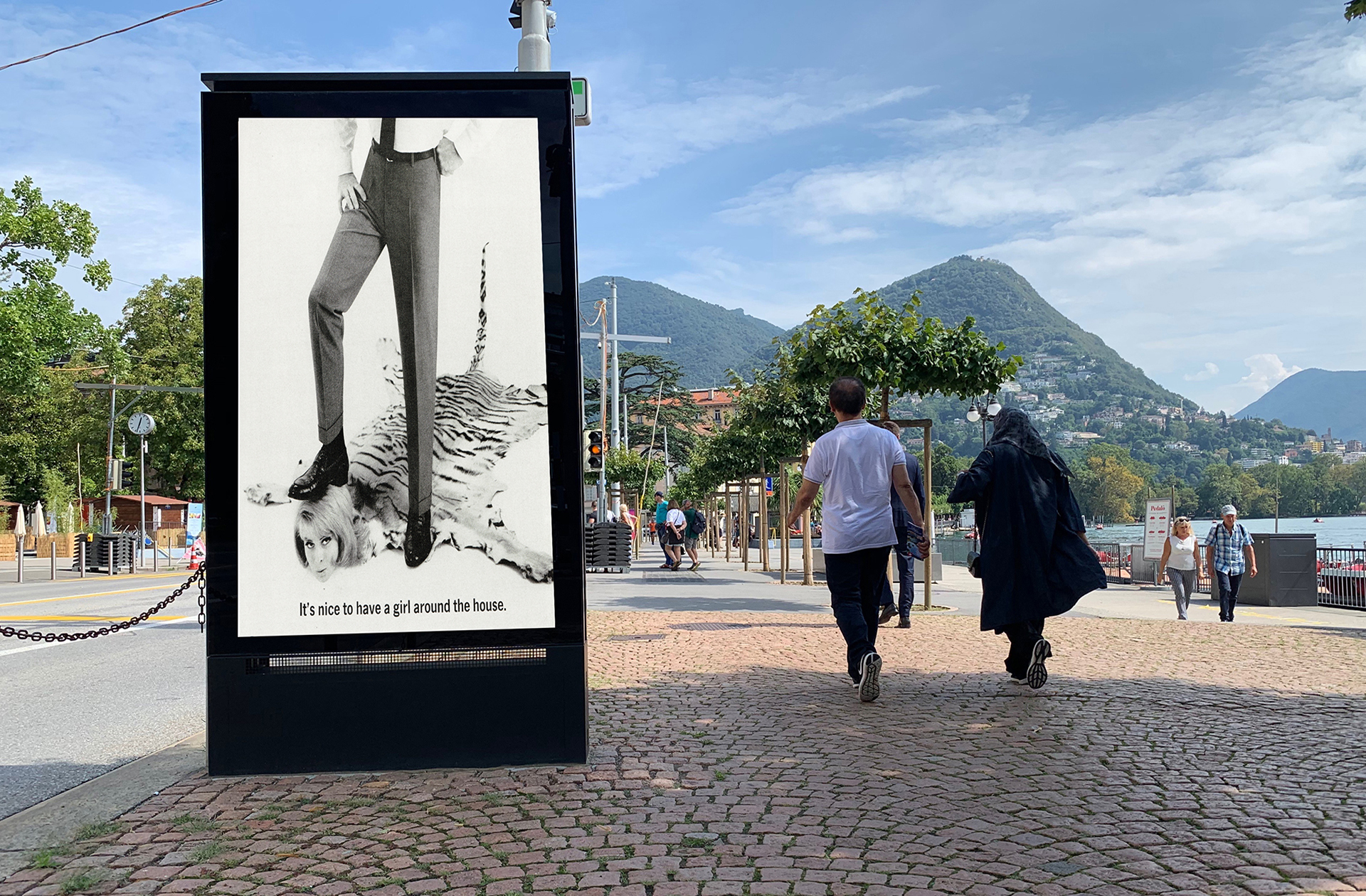 WHAT ABOUT HERSTORY?
CIRIACA+ERRE -2019 curated by Paola Ugolini large scale-urban installation in Lugano(CH)

On the occasion of the 50th anniversary of women's suffrage in Ticino, artist Ciriaca + Erre intervenes with a new large-scale artistic project carried out under the patronage of the Municipality of Lugano, the equal opportunity advisory commission, realized thanks to the support of Poincaré.
The urban installation, which involves the entire city, consists of a series of posters, whose images deal with the theme of the evolution of the female identity to commemorate a very significant historical and social date: the 19th of October, 1969.
On this date, and for the first time in the area of Ticino, women have been granted the right to vote, two years earlier than the Swiss Confederation.

The title of the urban installation "What About Herstory?" contrasts with the masculine use of the word History, a sequence of actions and glorious events performed by men where the role of women is completely omitted. To reflect on this and on the hard-won rights of women, the artist has created a series of advertising posters taken from still frames of two of her video works: Suspended Women (2016) and Suspended Witches (2017).

The archive images of the suffragette struggles alternate with misogynist advertising campaigns from the 1950s as well as contemporary images of African women who continue to be persecuted as witches and exiled from their villages (as personally documented by the artist), and other evocative images.The witches' theme relates deeply to Switzerland history, Switzerland being the last country to sentence a woman to death in 1792 with the accusation of witchcraft and the first government in the world to rehabilitate it in 2008 by recognizing it as a "judicial murder".

Quoting the project's curator, Paola Ugolini's introduction: "In a world where smoothness and pleasantness have become the hallmark of our time, just think of the I-phone screens evenness, and the culture of 'likes' imposed by the new digital society in social relations, Ciriaca + Erre's billboards restore dignity and integrity to sight. Art must provoke a shock to provide the public with the opportunity to go beyond appearances and question the current status quo. The showreel of images selected by the artist can hopefully serve to this purpose: to shake public opinion and inspire a necessary, overdue change in attitude and form
towards women everywhere in the world".