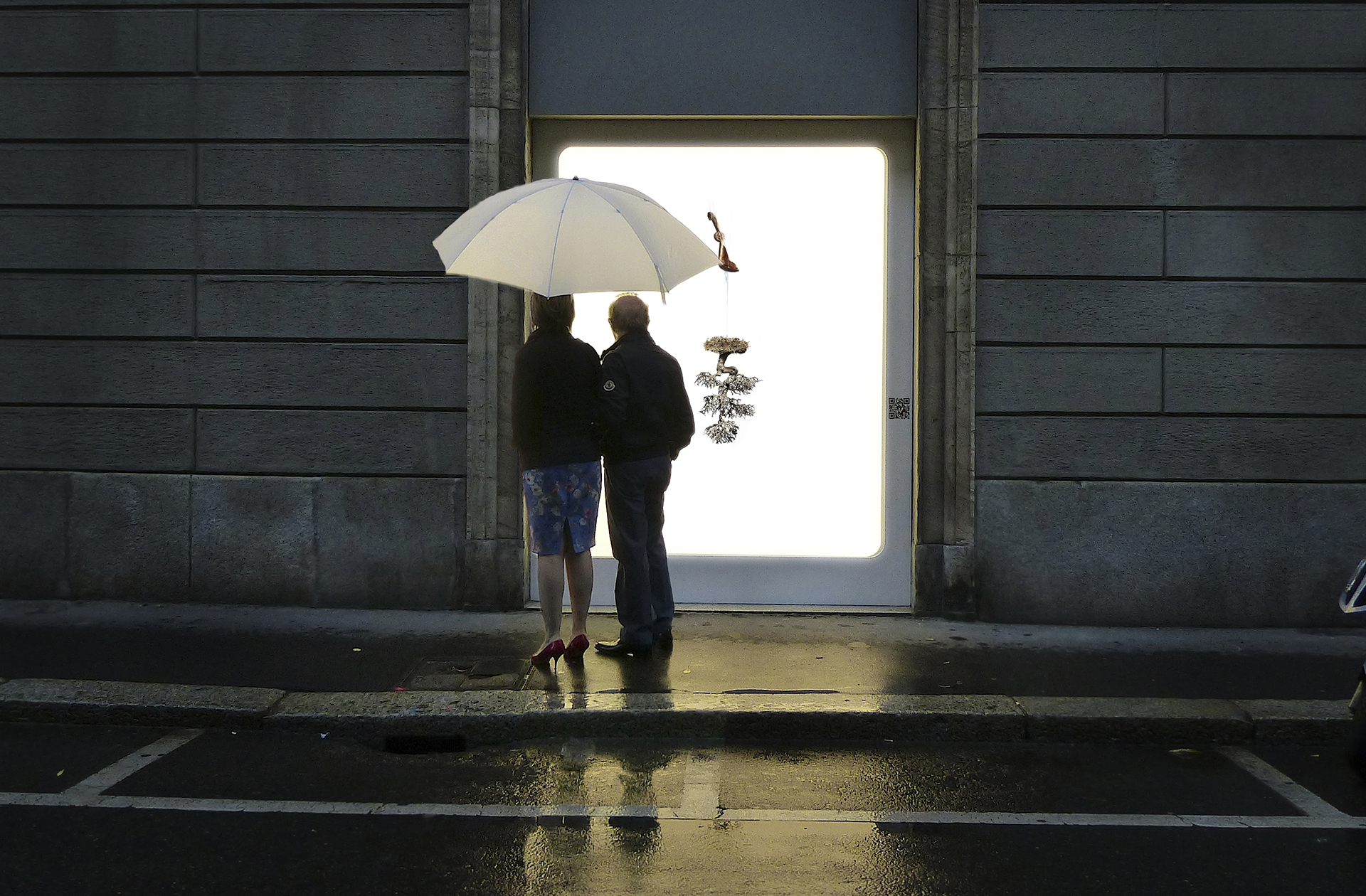 SUSPENDED BALANCE
Ciriaca+Erre 2015, urban installation, Milan (IT) 18th century sacred wooden spoon, half-century Bonsai tree resin, cement, glass, interactive Q-code with visual elements and audio.

On the occasion of the World Exposition in Milan, Ciriaca+Erre transforms a shop window in the fashion district into "Con-temporary Art", with the support of Poincaré Investment ltd for Con- TemporaryArt and under the patronage of the Swiss Chamber for Commerce and the Swiss Cultural Institute.
The work is a simple yet disarming consideration of how the human idea of nourishment turns the natural planet upside down. A seventeenthcentury sacred wooden label and a halfcentury Bonsai tree are joined by an invisible thread to suggest the idea of interdependence between man and nature. This delicate balance, in the last century, significantly compromises the order that regulates life on earth by relating the responsibility of humans to their interaction with the biosphere.
The strength of the project also lies in the choice of location: an internally-lit showcase with no access for the public, a surreal space, white, without corners, made of light and switched on 24 hours a day every day, made with an innovative and ecological painting that refracts light by implementing a chlorophyll photosynthesis process that transforms carbon dioxide into oxygen.
It is not an invitation to purchase and consume, at the heart of shopping and luxury, but an invitation to stop and reflect in front of an inaccessible shop window.
The work becomes interactive thanks to a QR-code and a smartphone that, activated, send audiovisual messages to raise awareness about the nutrition of the planet.
The work – explains Ciriaca+Erre – represents the metaphor of human's need to domesticate nature as itself, compromising the balance of universal laws where nothing exists independently, everything is connected. "Divisions are a creation of the human mind; for nature everything is one," the artist concludes.