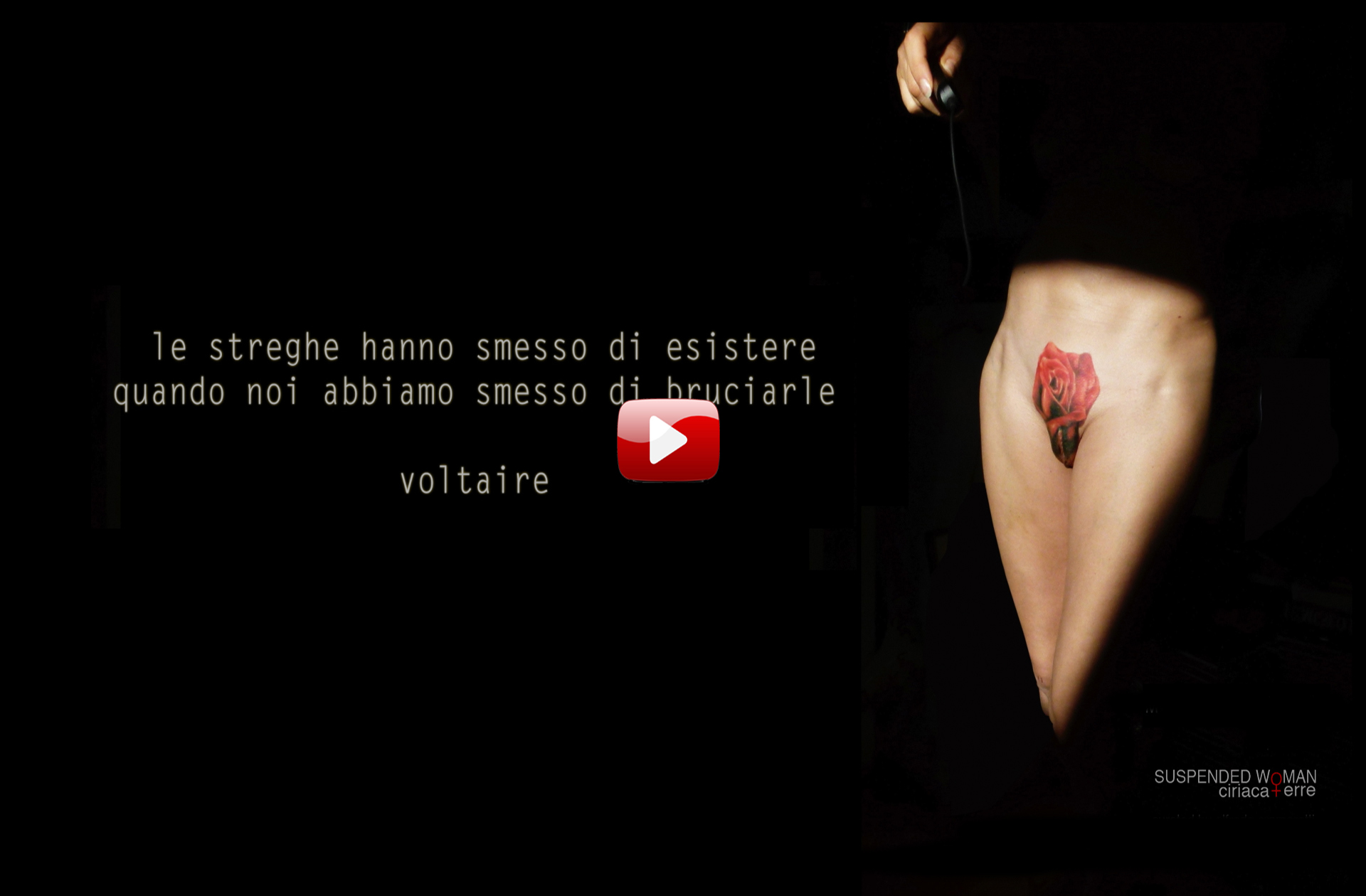 (click on the picture to see the video)
SUSPENDED WOMAN
Ciriaca+Erre 2016, single channel video with audio, duration 2'22''

Suspended Woman is a video work that becomes an artistic foray into the urban territory, curated by Alfredo Cramerotti, supported by Poincaré Investments Limited and the MOSTYN Visual Arts Center,
the main contemporary art center in Wales, UK.
This work is an excerpt from a much broader research project on female identity and violence against women, which has engaged the artist for about 10 years.
The video work was projected on an urban video wall, hidden among advertising spots, of very short duration, becoming an antithesis of the advertising spot that captures the unprepared passers-by. A video that, transcending a linear narrative, investigates female identity, with images that are as evocative as they are abstract and contrasting to which sexist and anti-feminist commercials of the Sixties and Seventies overlap.
"With this work - the artist declares - reflecting on the inability learned, theorized in 1967 by the American psychologist Martin Seligman, where an animal repeatedly subjected to electric shock, with no possibility on his part to avoid it, once put in the conditions of being able to escaping from the cage did not do it ".
"The artistic work that is proposed in the public, physical or media space that it is - says the curator Alfredo Cramerotti - is always a challenge for which there are no precise coordinates. It is a project in the etymological sense of the term, something that is processed and "launched" in one direction without knowing exactly where it will land ". "Sometimes the artist's intentions are at odds with the viewer's expectations. At other times, the artist himself may have expectations that are "out of
tune" with the audience's intentions in experiencing his artistic work. The fundamental thing however, the one we have tried to achieve with this project in Corso Como, is the absolute confidence in those who are in front of the artist's work. Trust in the ability to consider what they are meant to see and experience ".